A Message from our President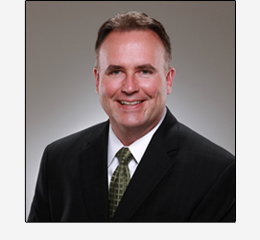 For the past few years, at the start of November and as Thanksgiving approaches, I hear about the Facebook trend, "30 Days of Thanks" where each day people list the things for which they're thankful. With that in mind, there are many things I am thankful for and I'd like to mention just a couple.

I'm thankful for our team. I'm fortunate to be able to work with so many high quality, high character people who are always looking out for what's best for our members.

I'm thankful for you, the members. Thank you for choosing and trusting us as your financial institution. All of us at Georgia's Own appreciate your ongoing support and loyalty.

With Veteran's Day approaching this month, I also want to take a moment to thank our military service veterans. To each one of you have served our great country, to your friends and loved ones who serve today, and to all the courageous, dedicated men and women who safeguard our country everywhere in the world: There are no words to express our heartfelt appreciation for your brave service and incredible sacrifices. We will never forget what you have done for us.

On behalf of our Board of Directors and employees, we thank you for your continued support and confidence in Georgia's Own and look forward to continuing to serve you.

Sincerely,
Dave Preter
With holiday shopping starting to pick up, you can earn 2 points for every dollar you spend during the months of November and December when you use your Georgia's Own Visa® Credit Card*. Points can be used for gifts and even cash back**. Plus, there are no category restrictions!

View more information.

We know some months are tougher on your budget than others so let us take away some stress by offering you a Payment Holiday***. Pick the month, fill out the form and pay a one-time fee of $25 per loan. You can take advantage of a maximum of 4 Payment Holidays over the life of the loan.

View more information.
Tip of the Month
Take more control of your finances with online banking alerts.
As an online banking user, you have access to alerts that will help you manage your finances without having to login. The Balance Summary Alert will send you an email daily or weekly at a specific time with the balances on the accounts you choose. The Balance Alert will be sent when your balance crosses a high or low threshold that you set. This is ideal for helping you avoid overdraft fees or when a deposit has become available. For more information on balance alerts, please visit the 'Settings and Options' section of the Tutorials & FAQs page.
In the Community

Go to Bat for the Brian Jordan Foundation
Today through November 27, 2015 all Georgia's Own branches will be selling bats for $2 with proceeds to benefit the Brian Jordan Foundation.





Holiday Closings

Veterans Day
Wednesday, November 11, 2015

Thanksgiving Day
Thursday, Novemeber 26, 2015

Day after Thanksgiving
Friday, November 27, 2015

Remember, you can access and view your account 24-hours a day with our free and secure online banking system.

Member Spotlight

Our member spotlight is on Alvin Bolden of Fayetteville, GA. Alvin has been a member of Georgia's Own for nearly 38 years and is originally from Gadsden, AL.

What do you like best about living in Georgia? I really enjoy the people who live in Georgia. It's also provided me with educational opportunities as well as full-time employment.

What products and services do you have with Georgia's Own? Personal savings and checking accounts and a credit card.

How has Georgia's Own helped you? I recall taking my daughter to a session on a Saturday morning that discussed "the real cost of a car". It was great to see the Credit Union providing this type of education while also interacting with parents and students. Georgia's Own has been a credible and dependable financial institution for many years.

For a chance to be featured in an upcoming newsletter, please download and fill out this form and email it to us at marketingdesk@georgiasown.org. If we use your story, we'll give you a $10 Starbucks gift card.
Big Ticket Items to Buy this Fall
The weekends spent mowing the lawn or grilling out on the patio will soon start to fade, but if you're in need for a new grill or mower, now is the time to make those purchases. Many items like these will start to go on sale and could end up saving you hundreds if you're smart. Take a look at a few items you should purchase now instead of waiting until next year:


Vehicles – As dealerships get ready for the 2016 models to come onto their lot, prices for 2015 models will drop drastically. Plus some may offer incentives like cash-back.
Grills – With the weather cooling off, there will be less grilling to be done. With stores getting ready to put the newer models out, you can score major discounts on the older models.
Household Appliances – As with many other items, old models of refrigerators and dishwashers must be cleared out to make room for new inventory.
Lawn Mowers – Lawn mowers take up a lot of space so in order to get them off the floors, retailers will cut the prices tremendously.
Patio Furniture – People begin to spend more time indoors so you may see some 50% discounts as retailers start to make room for winter merchandise.
Though you may be looking to save money this fall, spending right now on any of these big ticket items could save you big in the long run.

Source: MSN Money, Forbes