A Message from our President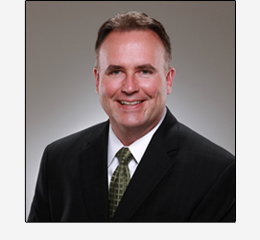 As we head into February, it's clear that 2017 is off to a great start.

Georgia's Own has once again been named Best of Gwinnett for 2016 in the Banks & Credit Unions category by the readers of Gwinnett Magazine. This achievement would not have been possible without the hard work put in by each member of our staff and their continued dedication to uphold our founding philosophy of people helping people.

I am also pleased to share with you that Georgia's Own has enhanced our Student Loan Refinance program, offering more flexibility and value to our members. Members will soon be able to consolidate both federal and private student loans into one convenient monthly payment, whereas only private student loans were available for consolidation through our previous program. The Credit Union will be sending out more information soon, and will be co-hosting an online information session for those interested. I encourage you to check your email, as well as our website, for more details.

Our annual Spring Car Sale is coming up next month. It will be held on March 17th and 18th at the Gwinnett Braves Stadium. We will be sending out more details on the Car Sale soon, so please stay tuned.

As always, thank you for being one of Georgia's Own.

Sincerely,
Dave Preter
Lose your high-rate balances and pay off holiday debt when you open a new Georgia's Own Visa® between January 1st and March 31st and enjoy introductory rates as low as 3.99% APR on balance transfers!* After the introductory period, the rate reverts back to our standard low rates of 10.49% - 17.49% APR.

View more information

Discover your freedom with a boat, RV, or motorcycle loan from Georgia's Own! We offer flexible terms up to 180 months (up to 72 months on motorcycles)**, competitive rates, 24-hour access to apply, and our eSignature option, which allows you to close on a loan from the comfort of your own home.

View more information
Tip of the Month
Surf Smart – Beware of 'phishing' scams & keep your personal info safe

A recent phishing scam has been identified by security researchers. The scam affects Google Gmail customers and has been 'highly effective' in tricking customers into divulging their login credentials, which allows data thieves to access your personal account information and past emails to then target your email contacts. Read more about this Gmail scam by clicking here.

Georgia's Own will never ask you for personal information (including username, password or social security number) through email or our website (except for registering or resetting your password in online banking). If you receive any electronic communication from Georgia's Own asking for your personal information, please do not supply any information and alert us at once by calling 404.874.1166 (toll-free: 800.533.2062), option 4.
JA Finance Park Program

Georgia's Own will be helping middle schools students through the JA Finance Park at the Junior Achievement Chick-fil-A Foundation Discovery Center on Wednesday, March 22. The JA Finance Park allows students to experience their financial futures first-hand. For more information on the program, click here.

Action Ministries Women's Kitchen

Volunteers from Georgia's Own will be at Grace Methodist on March 22 preparing and serving a meal to the homeless and food-insecure women of Atlanta. Through the Women's Kitchen, Action Ministries is able to provide 20,000 meals per year to those women and children in need.

Holiday Closings
All branches and offices will be closed on the following date(s):

Monday, February 20
President's Day

#MemberAppreciationMonday is a way for Georgia's Own to surprise and delight our members. Because offers change monthly, the best way find out about the current #MemberAppreciationMonday offer is to check your inbox for an email from us, check our website at georgiasown.org/mam, or follow us on social media.

Stay tuned for February's #MemberAppreciationMonday offer, coming to you in just a few days!




Georgia's Own members can save up to $15 on TurboTax!

It's not too early to start thinking about your tax refund! Get your taxes done right – let TurboTax® help you file your taxes and get the biggest refund you deserve. Save up to $15 on TurboTax products by clicking here.
How Much 20-Somethings Should Save for Retirement

Your 20s may seem like an odd time to think of saving for retirement, but it's actually the perfect moment to start planning for your later years. That's because the earlier you start saving, the more time your money has to grow.

Savers who begin setting aside 10% of their earnings at 25, for example, could amass significantly more by retirement age than those who wait just five more years to start saving. You can use a retirement calculator to see how much you should start saving now to reach your retirement goal.

Building a nest egg on a starter salary and a shoestring budget can seem daunting, though. Focusing on the incremental savings, rather than the goal, can help your savings objectives feel more manageable.

How much to save for retirement

For those earning around $25,000 a year, the median income for 20 to 24 year olds in 2015, saving the recommended sum of 10% amounts to a little more than $200 a month.

It may seem like a reach, but consider this: If you start saving $100 a month at age 25 and invest it to return 7.7% a year -- the average total return of the Standard & Poor's 500 Index of U.S. stocks over the past decade -- you'll have more than $378,000 available at retirement age. And it could be tax-free.

[Continue reading on Georgia's Own blog...]

If you need help setting or reaching your retirement or other financial goals, the Georgia's Own Investment & Retirement Services team can help. To learn more or schedule your free, no-obligation appointment, click here.